Monday: 1:00PM - 4:00PM
Tuesday: 1:00PM - 4:00PM
Wednesday: 1:00PM - 4:00PM
Thursday: 1:00PM - 4:00PM
Friday: 1:00PM - 4:00PM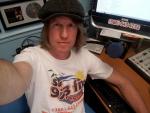 Genre:
Beach, Island & Sunshine Music Favorites
Listen to DJ Surfin' Vern, weekday afternoons from 1 PM- 4-PM
*** Also catch him Saturdays from 4:00 PM - 7:00 PM for DJ Surfin' Vern's Happy Hour "Blizzard's Blast From The Past" show. A three hour beach & island music show dedicated to Flagler County's history in radio. Go back in time during Saturday happy hour time. Have a fruity drink and kick back to the cool beach sounds ringing from Flagler County's past.